Yes you read right … I recently took up Arm Knitting.
What is Arm Knitting I hear you ask? Well it is exactly what it says on the tin, it is like knitting just using your arms instead of knitting needles.
I learned to knit in about fourth class and I remember the first thing I made was a scarf for my childhood teddy Cuddles *everyone say awwhhh*.
About 15 years later, while living in the recorded hottest place in Australia – Cloncurry, QLD – my friend and I decided that it was the perfect place and time to start knitting again – as you do! 😛 Well the real logic behind it was that one of our fellow backpackers, Sarah from Canada, used to crochet and that inspired us to knit our own scarves for our upcoming trip to snowy New Zealand. I've been knitting on and off since then, though its never been big projects, I still can only do two stitches; plain (garter) and purl and I can't even follow a pattern!
I love make these tea cozies, they are so simple and fun to make.
I'm just saying all this to show that anyone can take knitting back up from when they learned at school or take it up from scratch as an adult especially with the powers of a YouTube tutorial.
Now back to Arm Knitting …
A dear friend of mine shared this video of someone Arm Knitting a cowl scarf on my FB page and I was fascinated. It was so random but looked so easy to do so after I ran out of things I could knit I decided to give it a go.
Firstly: Buy thick chunky scarf wool – I got mine in the amazing haven that is Vibes and Scribes, Bridge Street, Cork.
Top Tip: Because – and you'll find out later – you need to double up on wool strands you really need to really buy 3/4 large balls to complete this project. 
Secondly: Log on to http://www.youtube.com and search 'How To Arm Knit A Scarf'.
I used this tutorial.
Honestly I think the hardest part was to get used to following the tutorial and maybe doing the stitches.
Also try not to start a project when you have to do anything, like use the bathroom, as you tend to get a little tied up. 😛
The whole project took me a total of two nights to master and a grand total of 40mintues to make the scarf. After a while the stitches are so repetitive and easy that I was on Facetime to friends the whole time I was making it.
Honestly it's that easy!
So what does an Arm Knitted cowl scarf look like you might now ask?
TA DA!
How cute? Not sure you can see the detail from my picture so here are a few cute ones I found on Pinterest!
Oooooohhhhhh aaaaaahhhhhhh
And talk about timing … it's been frrreeezzzziiinnngggg here the last few weeks so the morning after I finished it I woke up to a blanket of snow outside my house.
So all weekend I've been tucked up in my Arm Knitted scarf, it even made an appearance at home in Kerry. Its soooooo soft and chunky – what else would you want in a scarf?
Honestly it is such an easy and fast project to do for beginners – I Arm Knit challenge you all!
Just look how cute this Arm Knitted blanket is?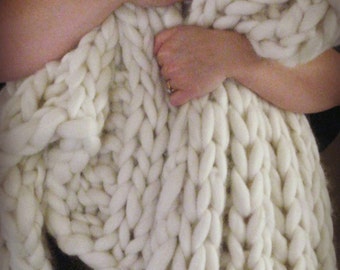 Watch this space!